All Saints CE Junior School joins ODST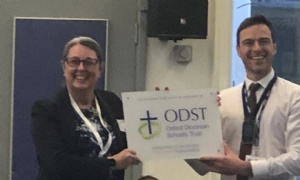 ODST welcomed All Saints CE Junior School, Maidenhead, to the Trust on 1 January 2023.
All Saints joins the 'Thames' hub in the Royal Borough of Windsor and Maidenhead, and bring the number of schools in the ODST family to 43.
Joining ODST is an important new chapter for the school, which has been on a journey of improvement following an Ofsted inspection last February. The school and ODST are now in the process of developing an improvement plan, with a wealth of expertise and targeted support. ODST has significant experience of supporting schools to improve and thrive, including with the Trust's five other RBWM schools:
St Luke's CE Primary, Maidenhead, is rated Outstanding, following a rapid improvement from Special Measures upon joining ODST.
Holyport CE Primary, Datchet St Mary's CE Primary, and St Peter's CE Middle School in Old Windsor, are now rated Good, having all joined ODST whilst 'requiring improvement'.
Burchetts Green CE Infant School maintains an Outstanding rating.
All Saints and ODST held a 'Welcome assembly' for pupils, staff and parents at the start of term. ODST chief executive, Anne Dellar, said it was a 'joy and a privilege to mark the beginning of a new chapter for All Saints'. She also wrote in a letter to parents 'At ODST we are always delighted to welcome a school into our network, and each brings something unique. We really value the individual character of every school community and can already see that All Saints will be a really welcome addition to our family of schools.'
In a message to parents, the school's executive headteacher, Navroop Mehat, and Acting Headteacher John McKrell, wrote that 'Joining ODST will give us a great stepping stone to achieve the school's potential. It really is an exciting time to be attending All Saints and we are looking forward to working with our new colleagues to continue our school improvement journey.'