Art and RE week at the Blake CE Primary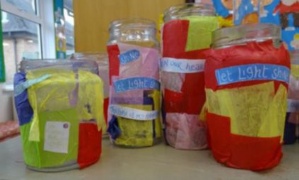 The Blake CE Primary, Witney, held a joint RE and Art week this year, with the aim of helping children understand their feelings and explore healthy ways of dealing with them.
Children were encouraged to think about people who they trust and with whom they can share their feelings, whilst also exploring the Christian idea of putting their trust in God. At the start of the week, Collective Worship introduced the theme - 'My Strong Tower' - and included some drama and learning a new song.
Throughout the week the children looked at different
Psalms - a collection of poems and songs recorded in the Bible, which explore a whole range of emotions. They used the artwork of Hannah Dunnett to inspire their own artwork, based around words of hope and life from the Bible. At the end of the week they shared completed artwork, which will also be shared with the artist that inspired them. All the children also spent time at St Mary's Church, exploring prayer spaces and having the chance to be reflective.
Values Awards also formed part of the week, and headteacher Tim Edwards-Grundy said that it was 'a joy to see how children are treating one another and the values that they are using in their actions and decision making.'