School leaders dive into curriculum at ODST conference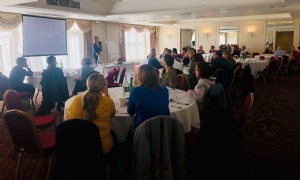 Headteachers and curriculum leaders took part in a curriculum-focused ODST leadership conference on 18th March.
Keynote speaker, Claire Gadsby, led a whole-group morning session focused on creating outstanding learning.
St Frideswide CE Primary reported back that they had taken Claire's ideas into their classrooms straight away:
Schools wishing to work more with Claire can contact her at claire@clairegadsby.com, or visit her website.
A range of breakout sessions in the afternoon showcased expertise from within some ODST schools. Thank you to leaders at St Frideswide, Datchet St Mary's and Deddington schools for their sessions on Inclusivity and being a Thinking school; and Grace Challans, SEN adviser to several schools, who led a session on key learnings from SEN audits.
Attendees also joined sessions by maths and English consultants Nathan Crook and Julie Sargent, explored Design and Technology curriculum with ODST Lead Education Officer Ian Connors, and learned about Developing a Coaching Approach in school with ODST School Improvement Adviser and coach, Ian Frost.
Next school leaders conference - 29 June
We are looking forward to hosting a Summer term conference jointly with Oxford Diocesan Bucks Schools Trust (ODBST), which will take place on 29 June at Bicester Hotel & Golf Club. The Summer term conference will focus on strong and effective leadership.