Kidmore End awarded 'Good' Ofsted grading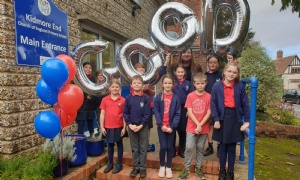 Kidmore End CE Primary School has been awarded a 'Good' rating by Ofsted following its first inspection for 12 years.
Inspectors praised the school's 'ambitious curriculum', along with the wide range of extra-curricular opportunities for pupils, such as trips and school clubs, school council and drama productions, that help them develop 'a love of learning and a deep appreciation of the world around them.'
The report also highlighted that 'wider development and pastoral support is at the heart of the school' and that 'care, kindness and support for all pupils is tangible through the whole staff team.' It notes the positive views of parents, including a parent comment 'It is a wonderfully nurturing and supportive school. I feel confident that my children's needs are being met and that the staff care about the success of all children.'
Following major changes to what Ofsted inspects, all schools with a past 'outstanding' rating are now being re-inspected. Anne Dellar, ODST Chief Executive said 'the new 'Good' judgement is strong, and confirms what we already knew, that Kidmore End is a wonderful, safe and happy school, providing a very high standard of education.' She also said in a letter to parents that she was pleased the pastoral support, care and kindness in the school had been recognised, as this had been 'very clearly demonstrated' in recent months.
The report recognises that phonics, reading and mathematics are taught well, while in its suggestions for improvements notes that some other subjects could be taught more effectively with further staff training. It also found that students with special educational needs and disabilities (SEND) are well-supported, and while needs could be identified more quickly, the school is already addressing this area.
Executive headteacher, Martina Parsons, thanked parents for their support and said 'Ofsted is one aspect of how we measure our success, however, our most meaningful gauge will always be our children. The children are at the heart of all that we do, and we are pleased the report recognises how important they are to us. Our children were wonderful ambassadors for our school during the inspection and we are incredibly proud of them. I am proud to lead such a wonderful school community.'