Leafield team to run OX5 for Children's Hospital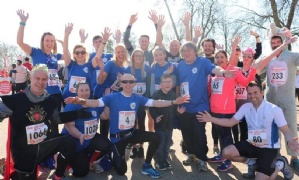 Staff and parents at Leafield CE Primary are running the OX5 at Blenhiem Palace on 29 March, to raise money for Oxford Children's Hospital.
The run is now a fixture in the school calendar - it's the third year that a team from the school has entered to raise money for the hospital, which has supported one of their pupils through cancer. This time they have set an ambitious target of £3,000.
Christian McGuinness, headteacher, said:
"We are very aware of how many of our families need the services of the hospital at one time or another. It's such a fun and positive way to give something back to the hospitals and seeing where the money goes each year gives us a real boost."
"I would urge anyone to take part in the OX5 Run, whether you are a runner, walker or a mixture of both. It's a fantastic event that is at the real heart of the community."
Read more about the OX5 event in the Oxford Mail
Support Leafield's OX5 run for Oxford Children's Hospital