Ofsted praise 'Kindness, tolerance and respect' at South Moreton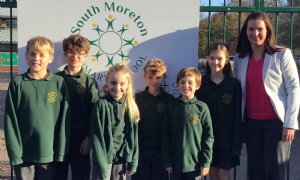 South Moreton Primary School has been graded 'Good' by Ofsted, with the inspector praising pupils' 'kindness, tolerance and genuine respect for each other and the wider community'.
The report highlights how the school's values of resilience and well-being and global citizenship 'underpin pupils' everyday experiences', and says pupils thrive at the school. It notes the 'nurturing, warm relationship' that staff have with pupils, 'first class' behaviour and that pupils feel safe, secure and listened to.
Inspectors found that a 'committed team of local governors supports the headteacher's vision for the school' and they praised the 'infectious enthusiasm' of teachers and teaching assistants, and their 'stimulating and thought-provoking lessons'. The report notes pupils' love of reading and learning and 'a sense of curiosity' which is 'enriched' through trips and visitors.
The report recognises improvements to the curriculum, highlighting the 'enthusiastic and knowledgeable subject leaders of science, design technology and languages'. It notes that further plans are being embedded, and staff are supported by training and networks, including through ODST.
In making recommendations to the school, the inspectors explained that while 'there have been some significant enhancements to the curriculum... these plans are still new' and therefore requires refinement to help staff meet the needs of all the pupils across the full range of subjects.
South Moreton's inspection took place on 6 October, shortly after Ofsted resumed routine visits for the first time since the beginning of the pandemic.
Download the full report below: