Prime Minister congratulates ODST schools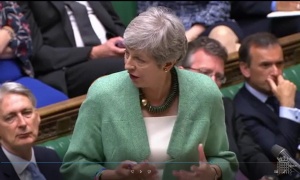 Prime Minister Theresa May has congratulated ODST and schools Brize Norton and Holyport, for successful Ofsted outcomes and delivering excellent education for children.
Robert Courts, MP for Witney, raised the Trust's success during Prime Ministers Questions on 10 July, highlighting that both Witney and her constituency of Maidenhead benefit from high-quality ODST schools.
He asked her to join him in congratulating them and noted that it is a good example of how 'academisation can really work in rural areas'.
In her response the Prime Minister said:
'I am happy to join my hon. friend in congratulating the Oxford Diocesan Schools Trust on its success. I am also happy to congratulate Holyport Primary School on the recognition it has received as a Good school, and Brize Norton in his constituency, which was rated outstanding.
'It shows that smaller schools in rural areas can provide an excellent quality of education and that the academy movement can rpovide for those schools and those children. It goes back to the point I made earlier: what matters is the quality of education our children receive, and in Holyport and Brize Norton, they are receiving a first class education.'
Watch the discussion from Prime Ministers Questions on 10 July 2019: