Pupils' art featured at Blenheim exhibition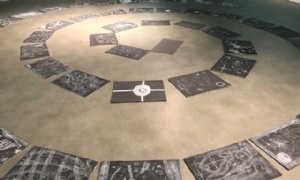 Children from two ODST schools have had their artwork exhibited at Blenheim Palace, as part of a project on the works of artist Maurizio Cattelan.
Tackley and Wootton by Woodstock primary schools took up a special invitation from the Blenheim Art team to get involved in the project, which gave children and school staff a rare and unique opportunity learn about the art and produce their own to go on display.
School staff were given a tour of the palace's Maurizio Cattelan exhibition, and met with Alice Kirk, Head of Education at Blenheim Palace, who guided them on talking to children about art, with a focus on the pieces exhibited. Children were then taken on the tour, learning about the works and what inspired the artist, and took part in a clay workshop on the theme of heroes and villains.
In school, children created a response piece to the works they had seen in the exhibition. They were able to use their own ideas to form the art or their interpretation of the theme of the exhibition. Alice Kirk visited to talk to the children about the work they created and how it may be displayed in the exhibition, to gain a further understanding of the process of creating the art and the children's interpretations.
A small group of Year 6 children were also able to attend a half-day session learning how an exhibition is curated, and had the opportunity to take part in the curating process of the children's exhibition. On 14th February, children, staff and parents attended an opening reception of the exhibition.
Lauren Murrey, headteacher at Tackley, said:
The children were all enthused by the project and Year 6s were thrilled by the opportunity to curate the exhibition. It gave them time and space to think about the impact their art would have on the person viewing their works, and the messages they wanted to portray.
One child from Tackley CE Primary said:
"There is not good or evil, because you can do a bad thing for a noble reason. I represented this in my art work with a girl who looked like a super villain on one side and an angel on the opposite side. I chose colour and pattern to represent these feelings and ideas."