'Sensory Space' opens at St John's CE Primary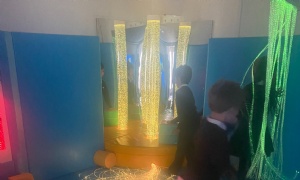 St John's CE Primary in Reading has created a new 'Sensory Space' for pupils, and welcomed Rachel Eden, Mayor of Reading, to officially open the new room.
The sensory space was inspired by previous SEND work that headteacher Martina Parsons had been involved with. She could see the great benefits having a space to meet sensory needs could have on children with additional needs, as well as those who were considered neurotypical, and wanted to bring this to St John's.
The school overcame several hurdles in creating the space, from where to create - deciding on revamping a chair storage area - to funding, building and ensuring the space met regulations. The PTFA (Parents, Teachers and Friends Association) pledged to meet 10% of the total costs and Ms Parsons put in a bid to a local charity, The William Payne Trust, which holds funds to be used for the benefit of the school and community. The Trust was able to finance a substantial part of the costs, along with school-based fundraising.
Rachel Eden, Mayor of Reading, said it was a 'privilege' to visit St John's and thanked the school for the welcome. She unveiled a plaque to officially open the room, before visiting all classes.
The school has reported that, from very humble beginnings as a chair store, the sensory space now has the capacity to impact positively on the school community on a daily basis. The school feels the space is especially important following the pandemic, to support their recovery and catch up for children, both academically and emotionally. The space will be timetabled for specific use and 'therapy' sessions as well as available for ad-hoc sessions for children, individually or in groups, to attend.