ST JOHN'S CE PRIMARY CELEBRATES OFSTED UPGRADE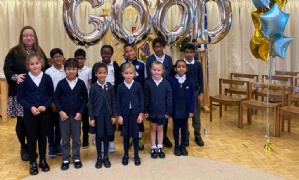 St John's CE Primary School in Reading is celebrating an Ofsted upgrade, moving to 'Good' in all areas, following an inspection in September.
Inspectors found it to be 'an inclusive school where leaders aspire for all pupils to enjoy learning and achieve their best'. The report says there are high expectations for both learning and behaviour, and highlights a 'tangible culture of respect' which is 'deep-rooted in the interactions between pupils, staff and visitors'.
The report notes strengths in the teaching of reading, vocabulary and language, and strengths in Early Years, where the outdoor area has been developed to facilitate learning through play and children can 'explore their capabilities and try new experiences'. The report also recognises safeguarding to be effective.
The school's 'Good' outcome is particularly significant, as it had previously been graded as 'requires improvement' in 2018. The new report says that 'school leaders have worked tirelessly and effectively' to improve the school and that 'plans to continue this work are well thought through'.
Martina Parsons, Headteacher, said
'I am extremely proud of the incredible team at St John's! I am particularly pleased that Ofsted recognised the journey of improvement made by the school since the last inspection. I would like to take this opportunity to thank our wonderful staff, leaders, local governing body and Trust colleagues, who work tirelessly to keep all that is great about St John's CE Primary School in place, as well as supporting and implementing positive changes and initiatives. We are looking forward to celebrating this great success and spreading the word about just how amazing our school is, and how exceptional our children and staff are.'
St John's became part of Oxford Diocesan Schools Trust (ODST) in January 2022, along with neighbouring New Town Primary School, and New Christ Church CE Primary School. New Christ Church has also been celebrating recent Ofsted success, maintaining their 'Good' grading.
In a letter to St John's parents and carers, Anne Dellar, ODST Chief Executive, said 'we are pleased that inspectors were able to see the impact of the journey that the school has been on'. She thanked families for their support and said that the Trust will continue to work with school leaders to support the school to thrive and develop.