St Luke's 'Outstanding' again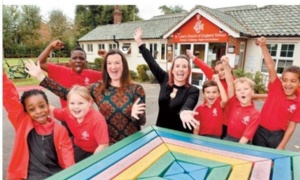 St Luke's CE Primary School, Maidenhead has maintained its 'Outstanding' grade following an Ofsted visit in July.
Inspectors said the school was a 'calm and joyful place where everyone is respected' and that pupils 'embody the ambition to live life in all its fullness'. The report praised the warm interactions between staff and pupils, and how the school prepares children for their next steps – it says staff 'know every pupil exceptionally well', that pupils have a 'thirst for learning', and 'gain a powerful understanding of themselves and the world around them'.
The report found that, as well as a core focus on English and mathematics, the 'curriculum in different subjects is of very high quality' and found teaching and learning in art to be particularly impressive. It also highlights that 'leaders have planned pupils' personal development with the same extraordinary care as their academic curriculum.'
St Luke's has undergone a remarkable transformation since 2012, when it was placed in special measures. It achieved a 'Good' grade by the end of 2013, joined Oxford Diocesan Schools Trust (ODST) in 2014, and in 2017 was graded Outstanding in all areas. The school recently said a fond farewell to headteacher Amanda Butler, who has led the school's success for the past decade, and welcomed Claire Spankie as interim headteacher.
Amanda Butler said:
We are thrilled with the outstanding judgement, St. Luke's has been on an incredible journey over the years and having this hard work and passion recognised again is incredibly rewarding for the staff and families alike. It has been a poetic adventure for me - beginning and ending with Ofsted inspections. We are a close, inclusive community and staff are dedicated to doing the very best that they can. Our children are happy, enthusiastic and full of awe and wonder, there is no better place to be.
Claire Spankie said:
'Amanda and I are so proud of every member of staff and every pupil at St. Luke's. Their hard-work and commitment for every child to live life in all its fullness was rightly recognised and celebrated throughout the report.'
ODST's chief executive, Anne Dellar, said
'That St Luke's continues to be 'Outstanding' is testament to the extremely talented, dedicated staff and leadership at the school. St Luke's has gone from strength to strength and I couldn't be prouder of what the school has achieved and what it offers for the wonderful children and families in this community.'
ODST has significant experience of supporting schools in the area to improve and thrive, including Burchetts Green CE Infant School, which also retained its Outstanding grade in the summer.