Wheatley CE Primary leaps to 'Good'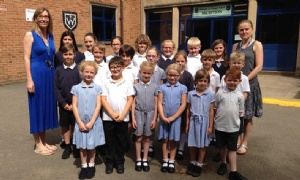 Wheatley CE Primary School has been awarded a 'Good' rating in all areas by Ofsted following a full inspection in June, leaping two grades and bringing it out of Special Measures.
Inspectors praised the school's co-headteachers and ODST for bringing about 'significant improvements' to teaching and learning. They found governors' expertise 'impressive' and that leaders and governors all share 'high expectations and aspirations for the academic, social and emotional success of pupils'.
The report highlights the school's effective communication with parents, who are 'overwhelmingly positive about improvements that leaders and staff have embedded.' Inspectors also found effective safeguarding arrangements, improved attendance, and a 'happy and harmonious' environment where pupils are 'respectful, welcoming and kind'.
Inspectors found that Reception children 'thrive' in the early years environment with a 'stimulating, enriching and challenging curriculum', and staff 'liaise well with parents, ensuring children's experiences at home inform their learning at school.'
Improved outcomes were found in reading, writing and mathematics, and music teaching was highlighted as a strength of the school. Most pupils were found to be making strong progress, including disadvantaged pupils and those with special educational needs and disabilities. Inspectors noted the school was 'highly inclusive', for example all pupils learning sign language.
Anne Davey, Chief Executive, ODST said:
'We are delighted that Wheatley has been recognised by Ofsted as a Good school. The community can now be assured that the children have the school they deserve - where they are safe, happy and receive an excellent education. I would like to thank all the staff, governors and parents who have supported the school and given their time and effort on this journey with us.'