Northern Hub schools come together for Remembrance service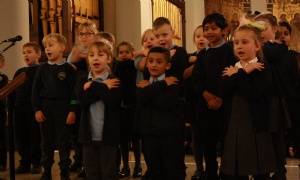 Five ODST schools - St Mary's Banbury, Deddington, Tackley, Wroxton and Dr Radcliffe's - held a joint service to mark 100 years since the end of the First World War.
In a moving service at St Mary's Church, Banbury, hundreds of children paid their respects through dance, drama, art, readings and poetry. Artwork was then displayed in the church for services on Remembrance Sunday.
The schools are all part of ODST's Northern Hub and had been working together to ensure children gained an understanding of the First World War.
Read article in the Banbury Guardian
​