Headteachers focus on curriculum at Spring conference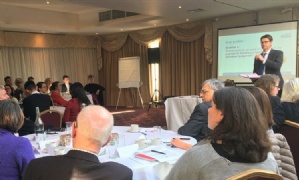 Senior leaders from ODST and ODBST delved into curriculum at their Spring conference on 27 February, ranging from Ofsted's new framework to examples of best practice within the trusts.
Over 50 headteachers, assistant headteachers, trustees and advisers came together to hear a keynote from Stephen Long HMI, Assistant Regional Director for Ofsted in the South East, about the proposed inspection framework for 2019-20.
David Cousins, Chief Executive of Oxford Diocesan Bucks Schools Trust (ODBST), followed the Ofsted session with a valuable discussion and group activities on what the new framework means in practice for the curriculum in trust schools.
Attendees also heard from Skillforce about the cross-curricular Prince William Award, designed to help build pupils confidence, character, resilience and leadership.
Afternoon sessions, led by middle leaders from four trust schools, showcased excellent practice across the curriculum with ideas that attendees could take back to their own school:
Art at St Luke's CE Primary, Maidenhead
Science at Dr Radcliffe's CE Primary, Steeple Aston
Computing at Thomas Harding Junior School, Chesham
Curriculum design at Deddington CE Primary
About the leadership conference
ODST and ODBST's leadership conference takes place each term. It is highly valued by trust headteachers and other leaders for the chance to get together, discuss ideas, and focus on school improvement and offering the best education possible for their pupils.