Dr South's double inspection success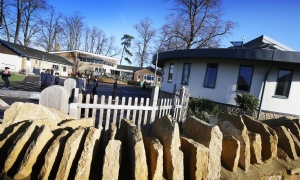 Dr South's CE Primary in Islip is celebrating two 'good' gradings, following Ofsted and SIAMS inspections that took place within weeks of each other last term.
Dr South's was praised by Ofsted for its clear vision of 'nurture, educate, inspire', that 'shapes decisions' and is shared by staff, governors, parents, pupils and ODST, resulting in 'a school where people matter and thrive'.
Inspector Deborah Gordon also praised the community feel, reporting that parents value the importance placed on 'children's happiness and wellbeing'.
The report noted the range of curriculum opportunities for pupils such as cooking and forest school, and highlighted high standards in mathematics, reading and writing. Early years education is also recognised as a strength.
In the SIAMS (Statutory Inspection of Anglican and Methodist Schools) report, the school is praised again for its vision, which the inspector found to have brought 'particularly strong levels of success to the academic attainment of the more vulnerable pupils'. The report also highlights the 'teaching of Christian values across the curriculum, which deepens pupils' ability to reflect on and explore issues in life.'
Find the full reports on Dr South's school website or read more via the Oxford Mail article
'Dr South's school rated 'Good' by Ofsted and SIAMS.'
Image: Oxford Mail