ODST welcomes Wootton-by-Woodstock CE Primary School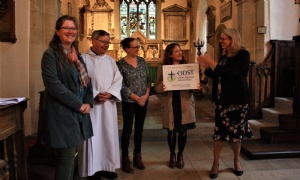 Wootton-by-Woodstock CE Primary School joins ODST family
Children, teachers and governors at Wootton-by-Woodstock CE Primary have celebrated becoming part of ODST, with an assembly held at St Mary's Church, Wootton.
Headteacher Valerie Lucas welcomed children and ODST staff, and Rector Stephen Jones led the worship. As part of the assembly, Anne Davey, ODST Chief Executive, explained to the children using a set of Russian dolls that by becoming part of ODST, their day-to-day life won't change, but they'll have an extra layer of care and support around them - layers that begin with their families and stretch all the way to God.
Wootton-by-Woodstock is a small village primary school. It brings ODST's family of schools to 33, and the school will become part of the trust's North Oxfordshire hub.