Datchet St Mary's achieves Ofsted upgrade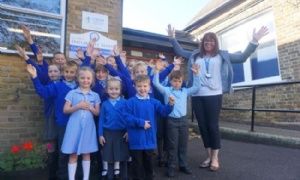 Staff and pupils at Datchet St Mary's CE Primary School are celebrating after the school achieved a 'Good' rating in a recent Ofsted inspection, following four years of 'requiring improvement'.
It was the school's first full inspection since welcoming headteacher Nicola Green in 2016 and joining ODST in 2017.
In her report, inspector Liz Bowes praised the headteacher's vision and drive, along with the staff who 'share her passion and determination to keep improving the school'. The report also recognised that the school enjoys strong support from parents and governors, and that 'pupils make strong progress across a range of subjects'.
In particular the report highlights the school's curriculum and 'rich experiences'. Pupils talked about having enjoyed a talk from a female polar explorer, produced plays with professional actors and directors, developed their artistic skills with graphic designers, and gained commercial awareness through mini-enterprise projects.
It also praises the school's inclusivity, noting that 'respect for cultural heritage is a key feature of the school' and 'disadvantaged pupils often achieve well'. It recognises the 'strong culture of safeguarding' and the conduct of pupils, describing the school as 'harmonious and happy'.
Datchet St Mary's will celebrate with an open day for the community on 1st November.
Anne Davey, Chief Executive, ODST said
'We are delighted that since joining ODST last year, Datchet St Mary's has improved so that it has been judged to be a Good school. The outcome is testament to the dedication of the headteacher and staff and the work of the trust in improving the school and providing the children with a rich, rounded education. I am thankful to the governing body and parents for their continued support.'